RoHS-Services
Our services include the following in detail:
RoHS risk analyses
As part of the RoHS risk analysis, your suppliers and products (bought-in parts, materials, etc.) are assessed with regard to their material compliance risk. As a result, the suppliers and their products are assigned to various hazard classes and in the further implementation are prioritized according to an action recommendation.
RoHS process integration
Within a process workshop, operative and process measures for implementation of RoHS are discussed with all the affected departments, defined and the necessary resources are allocated.
RoHS data service and supplier communication
Material data management (searching, creating, checking and sending material data)

Communication with suppliers and customers

Data input in MDS.web or third party or in-house systems

Implementation of substitution programmes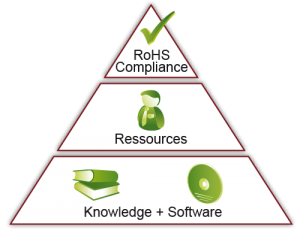 RoHS compliance certificates
To demonstrate the RoHS conformity of your bought-in parts / materials, we search for all the information from your suppliers for you. When all the data is available, we draw up a compliance certificate for you, which confirms the conformity of your products
RoHS trainings and workshops
The training makes your employees aware of the legal requirements and explains what has to be done. We give you an overview of all the obligations that can result for you from the RoHS Directive and point out the possible consequences.
Complete RoHS coordination
On request, we also take on all your RoHS obligations by providing an external material compliance coordinator.